Have any of you been just dying to see the painted island?! Maybe it's just me that gets all giddy about things being painted. I'm clearly high on paint fumes since I've literally been painting for the last 6 months so forgive me if I am little crazy lately!
If you have no idea what I'm taking about you can see the last post about Mark's craftsman skills and the custom island he built.
I started off using a friend's paint that she had bought but didn't need and gifted to me. It's a really pretty light gray color, just not the color that I was going for.
I didn't know it until I got a little on and stepped back to see if I liked it. It just wasn't what I had in mind
, I was thinking of going much darker so I was on the hunt then for the perfect darker shade of gray.
Before I show you my island, I have to give you a little back story on where I got the inspiration from. One of the many blogs that I follow is this
one
. Check out Melissa's beautiful kitchen below.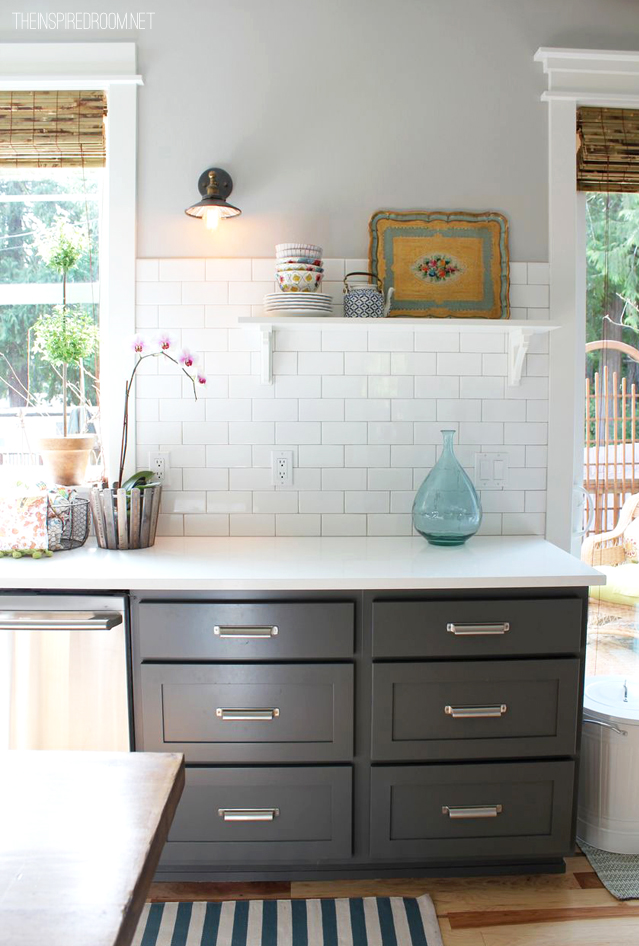 Melissa has a gorgeous home and her kitchen renovation is amazing. The thing that I love is, her before kitchen is just like so many of our kitchens. A nice kitchen- just very basic, builder grade and slightly hard to
maneuver
due to the L shaped layout. We had that layout in this house and it

didn't

work for us either.
She took her kitchen from nice to Niiiice and now it's an extremely functionable, working kitchen.
The thing that caught my eye when I was perusing her kitchen makeover for inspiration was the color of the base cabinets. That is EXACTLY the color I was imagining for my island.
I quickly found where Melissa referenced the color on her post about her cabinet colors and went out and got some of that paint for myself. It's called Kendall Charcoal by Benjamin Moore in satin finish.
Here it is on my own cabinets
It is absolutely what I had in mind and I get so excited when what I have in my mind plays out in real life. Don't you love when that happens?
What do you guys think? Ready to come over and have coffee with me yet?! Wait, I cant find my coffee maker yet amongst all the boxes. Give me a few more days, then maybe I'll locate it. #hoarder
We put the pulls on the cabinets too and LOVE them (I know right, I LOVE everything... remember what I said about paint fumes = crazy?!).
It's like icing on the cake. These pulls complete my cabinets. It really pulls (no pun intended) the whole kitchen together and makes it feel more "done" if you will.
We never had pulls or knobs on our cabinets in our previous house and I have no idea why we never did. They make opening the cabinet easier (duh!) and they look beautiful.
We still have to add some accessories here and there but it's evolving quickly into the kitchen of my dreams (literally I dream about this house crap which seems like fun but sleeplessness is not good for me, especially when my two year old is getting up at least 3 times per night now that we are in a strange new house- that's a post for another day).
The "to-do" list keeps getting shorter for this room which is pretty exciting! The things still on the list are crown molding on the cabinets, one more coat of paint on some of the custom built parts of the cabinets, buying an above the refrigerator cabinet and painting that, tile backsplash, trim paint, and wall art/decoration
Just enough to keep Mark and I busy! I am hoping to have everything put away in here next week so I can give you a whole room tour! If you follow me on Instagram you probably already saw the new dining table light that I (you guessed it,) LOVE!
Have a great Weekend guys!!